21 Ham Long street, Hoan Kiem, Hanoi
The Mass times Ham Long Church
Daily mass: 05:30 (06:30 in winter) – 18:30 (Thursday) – 19:00 (except Monday)
Saturday mass: 19.00
Sunday mass: 06:00 (06:30 in winter) – 08:30 (for children) – 17:00 (for youth) – 19:00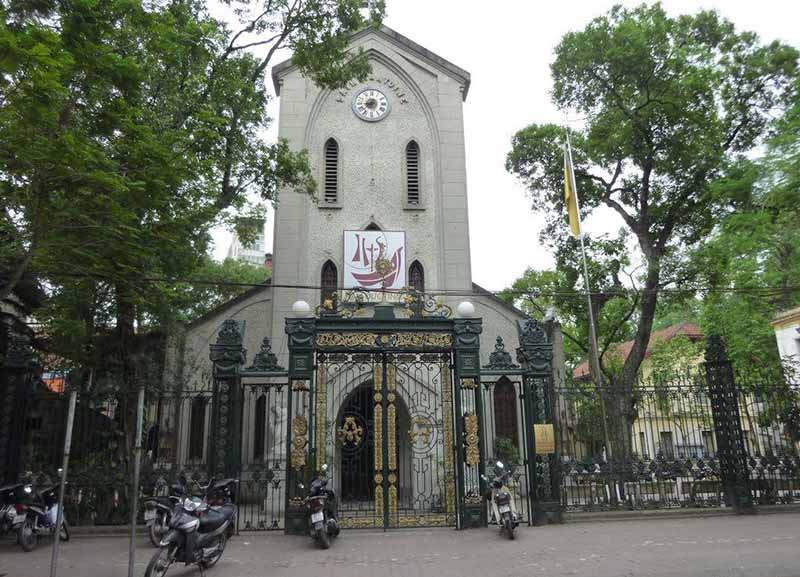 Ham Long Church is a Roman Catholic church in the center district Hoan Kiem of Hanoi. The church was built at the end of the 19th century on an old street named Hàm Long from which Ham Long Church was called. Today, Ham Long Church is one of the three major churches of Hanoi, together with Cua Bac Church and Saint Joseph Cathedral.
Ham Long Church was built in 1934 after the design of a Vietnamese architect, at the time of the French administration. The columns and altars are decorated with rope-like designs like the Franciscan straps. Especially, the church used a lot of local traditional building materials such as straw, lime stone, paper… to create the arches, causing effective diffuse reflection of the sound during the ceremony without modern sound system.
You can visit Ham Long Church as it is open every day from 6.30-19.00.